Last week I delivered my latest bespoke commission 'Younger Next Year' in time for the client's husband's big birthday – he loved it – always such a relief!!

Now that I have a couple of studio-based weeks without rushing around to events, I thought I would do a little
Round Up of some Recent Releases
as I can never be quite sure that I have told you about them all.
I really should be more organised, with proper launches etc. but, hey ho, that's not really my style!! 😂
Firstly, two new Limited Editions prints for you:
'Look At This'
a nostalgic shelfful of Ladybird books to take you back to your early school days…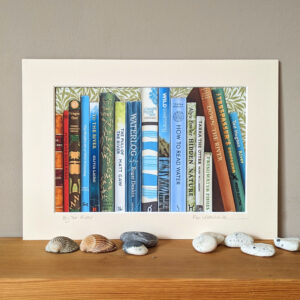 Drift away with the flow of the river and memories of summer with
'By The River'
now available as an A4 mounted print
Two new greetings cards from my Portico Library collaboration:
Spine[Less] and Portico
are now in my online shop too 🙂
Getting Christmas sorted early….
I know we're not past Hallowe'en yet, but I have been gathering gifts already, as I like to get my Christmas present buying started in October (if not before!) and well sorted by the time December gets underway.
To encourage you to do the same I am offering you an exclusive 10% off throughout my website shop from now until the 4th December 🙂
Simply add the code:
EARLYXMAS23
to your basket…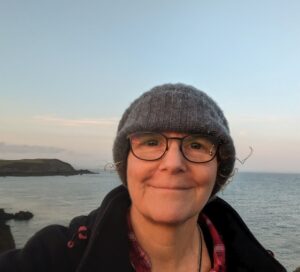 … and the sun did eventually shine in Dumfries & Galloway!
Thank you Wigtown Book Festival people for a super weekend!
… and another thank you to all the lovely visitors at York National Book Fair, now that I have actually added you to my mailing list!