A trip to Hay-on-Wye last week, with it's plethora of wonderful bookshops full of loved and tattered books, inspired me to start on a new Vintage Orange Penguins painting.
I love the early stages of a Shelf Portrait, where my brush feels free and more expressive. Sometimes I am tempted to leave them as they are….. But I tend to be even more tempted by the finer details!
Whilst in Hay-on-Wye I delivered a series of framed Limited Edition prints to Guy and Ellie at the lovely Bluestone Gallery . If you are in Hay, I recommend taking a look at their great selection of artists and makers, including my good friend and talented metalsmith Kate Rhodes Jewellery 🙂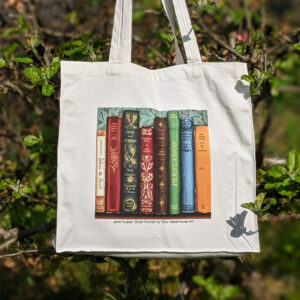 There are now just a few of these Jane Austen Tote bags left in my shop – catch 'em while you can!
Best Wishes,
Roo