A Lovely Busy Open Studios :-)
Open Studios July 2021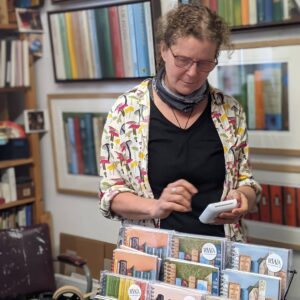 A big thank you to all the lovely, chatty people who visited, and a big WELCOME to all the new subscribers to Roo's Mailing List!
It was so fabulous to have such friendly faces and enthusiastic book-related chats in my studio. The whole of Hebden Bridge was buzzing with visitors from near and far, and for once the weather was perfect too 🙂
AND… we get to do it all again in October!! The second Hebden Bridge Open Studios weekend of 2021 will run from October 1st-3rd with artists all over Hebden Bridge and the surrounding area opening their doors and welcoming visitors.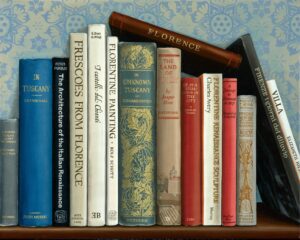 I also had a successful weekend at the Affordable Art Fair in Battersea (not in person though, as it was the same weekend as Open Studios!) where Nicholas Bowlby Fine Art  showed my newest paintings.
'Architectural Heritage' and 'About Florence' (above) have gone to their new homes…
My creative energies have been boosted by all this lovely enthusiasm and I am ploughing it in to lots of new work. Here I am painting in a background using Hannah Nunn's gorgeous Daisy Meadow wallpaper for inspiration 🙂
I am now busy working on series of paintings for 'Calm and Collected', my next solo exhibition at Northlight Studios at the end of October. Details to follow!…..
 There is a new greeting card in my shop for anyone who enjoys a dose of 1960's/70's nostalgia 🙂
Take yourself back to memories of these classic childhood comic and TV show annuals! I used to spend hours and hours poring over these annuals as a child. We had one shelf full, and I must have read them all a hundred times! Whizzer and Chips, The Beano and the Blue Peter Annual were my favourites. Which were yours?
Shop Whizzer and Chips Card Here
I'm sad to see the back of the lovely hot, sunny spell – though I have had to take regular dips in the river to stay cool!
I hope you enjoy these magical glimpses of evening sunshine in the woods yesterday…
Best Wishes,
Roo