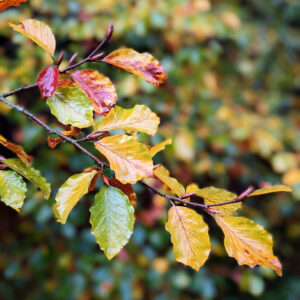 The leaves are turning here in the lovely Colden Valley. It is such a blessing to be able to start my day with a stroll through the beech, oak and Scots Pines 🙂
While browsing for a link to put with this photo, I came across a blog about the hidden gems of this lovely valley.                                                                                                                          Have a look here.                                                                                                            But don't tell everyone how lovely it is!!
New Limited Edition Print:
Now available in an edition of 100 Fine Art Giclee Prints
I love the warm tones of the worn leather and the way the gilded text shines out of the spines on these Dickens books.
Prepare yourself for an atmospheric Dickensian Christmas this year!
(remember to use the code EARLYXMAS23 for 10% off!)
A date for your diaries:
Saturday 2nd and Sunday 3rd December
10.30am – 5pm
with a dozen or more of your favourite Northlight Artists, along with refreshments, raffle and an art activity 🙂
Yes, there will be MULLED WINE!
The Winter Fair is just one of the arty things happening all around Hebden bridge as part of the
Hebden Bridge Open Studios Winter Weekend
Follow @northlight_studio @hbopenstudios and #hebdenmakeschristmas on instagram for more news from all those taking part…
Getting Christmas sorted early….
To encourage you to get Christmas sorted early, I am offering you an exclusive 10% off throughout my website shop from now until the 4th December 🙂
Simply add the code: EARLYXMAS23 to your basket…
With Best Wishes
Roo