Last week I had a fascinating time visiting the Portico Library in Manchester.
Such a wonderful atmosphere, surrounded by walls of leather-bound volumes in varying states of wellbeing. Warm lighting from reading lamps, comfy armchairs, mugs of tea on the side tables with folk immersed in reading and research.
What a special place!
I'm very excited to tell you that I will be collaborating with this fabulous library on a project highlighting their beautiful and well-used collection, and promoting their Adopt a Book scheme to help resurrect their more crumbling editions….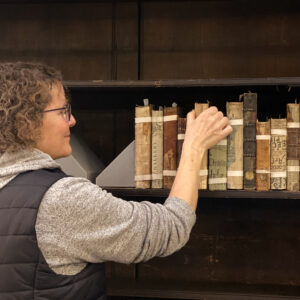 I'll be painting two Shelf Portrait oil paintings.
The first will picture a selection of the more delicate 'spineless' books, in need of some TLC, but so fascinating with their variety of under papers: scraps from old newspapers; sheets of hand-written accounts; pages from other books, some upside-down or sideways…
This painting is going to be quite a challenge, but fabulously fun!
The second painting will be representative of the breadth of the Portico's collection (warts and all, history-wise), and will include some of the skilfully re-bound books, retaining the front and back covers and magically blending them into a new spine with beautifully rendered gold titles.
During September 2023, the Portico Library will be putting the paintings on display, and hosting an event for members and visitors where the conservation team will be giving a presentation about their Adopt a Book scheme, and I will be talking about the paintings. So put Thursday 14th September in your diaries!
The paintings will be for sale, with a percentage of the sale price going to the Portico's Endangered Book List Fund.
I will also be producing greeting cards from the paintings, which will be for sale in the Portico Library Shop 🙂
So, it's all very exciting! It was such fun to select the books for the painting and arrange them on the dark wooden shelves – a big thank you to Pat and the rest of the library collections team 🙂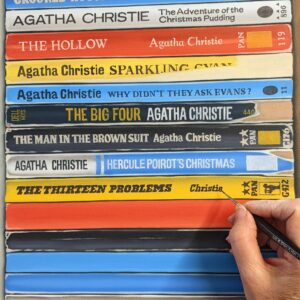 In the meantime, I am immersing myself in a bundle of Pan Paperbacks by the prolific and popular author Agatha Christie. So many classic typefaces to render, and so many delightful scuffs and torn edges 🙂
You can view a little video of me at work here. (I invested in a new phone holder to make it easier to film myself painting, but it attaches to my drawing board and moves whenever I lean on the board, so apologies for the wobbles!!)
Best Wishes,
Roo